At Rosneath Primary we have entered the Pocket Garden Competition by Keep Scotland Beautiful multiple times and the children love designing, building and growing them. "A pocket garden is a miniature garden that uses edible plants, plants that attract wildlife, and that reuses something which would otherwise have been thrown away" Keep Scotland Beautiful.  
P4/5 2023 Japanese Pocket Garden
In connection with P4/5's topic on Japan they designed their garden to draw together their learning. 
This years design focused around The Jungle Book.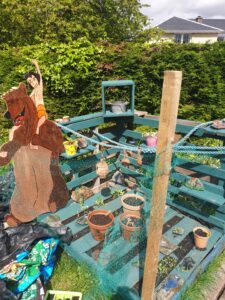 Primary 1/2 entered  Pallet and Planter Competition with Gardening Scotland in 2019.  Their successful entry was allocated a space at the 2020 National Gardening Festival in Edinburgh, which should have taken place at the Royal Highland Centre at the end of May 2020. But unfortunately this couldn't go ahead, however some of the pupils decided to make their own pocket gardens at home during lockdown. They caught the attention of the Beechgrove Garden on BBC Scotland. Mrs Gillespie created the start of their pocket garden and once the new term began the class enjoyed finally putting their design together in the school grounds. On return to school in August 2020, the children were so eager to continue work on our garden and entered into the competition again, as the only entry from Argyll and Bute and feature on the Keep Scotland Beautiful website.